ResMed Sleep Products
There are 3 main types of sleep apnea machines
Sleep devices are all commonly called CPAP but some are actually APAP or Bi-level machines
CPAP (continuous positive airway pressure) machines deliver constant airflow while you sleep. Another name for a CPAP machine is a fixed-pressure sleep apnea machine.
APAP (automatic positive airway pressure) machine is similar to a CPAP machine but it varies the pressure automatically in response to your needs, which can make it a more comfortable sleep apnea machine.
Bi-level therapy delivers a different pressure for breathing in to the one used for breathing out. This sleep apnea machine is normally reserved for people who need higher pressures, central apneas or other patients with more complex respiratory, cardiac or muscular conditions.
Call our Sleep Team at Sleep Dynamics for more information on (02) 4044 1260
Airsense 10 Autoset
AirSense™ 10 is one of the world's most widely used series of CPAP and APAP machines, each designed to deliver high-quality therapy for a better night's sleep.
Each machine gives you access to myAir™ – a free online support program and app that syncs with your mobile or web-based device to provide a nightly sleep score, coaching and more to help you stay on track.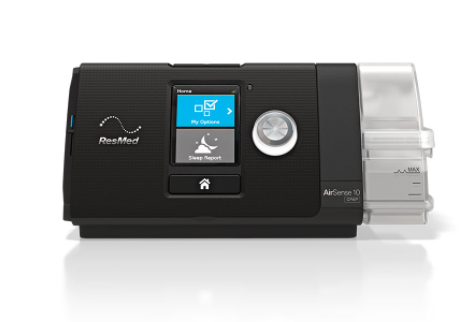 Airsense 10 Autoset for her
Research shows that sleep apnea in women is different to sleep apnea in men. So it makes sense that your treatment should be different too. ResMed Air Solutions introduces the first complete sleep therapy solution tailored for women — combining cutting-edge technology with stylish masks and personalised support to give you everything you need for a great night's sleep.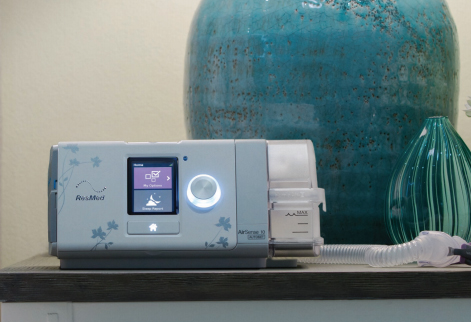 Airsense 10 Elite
The new AirSense 10 Elite is an advanced fixed-pressure therapy device with an integrated humidifier. It is designed to be intuitive and easy-to-use. With no complicated menus or settings to navigate, patients can simply plug in their device and press Start. The device also features built-in wireless connectivity* so you can stay more connected to your patients than ever before.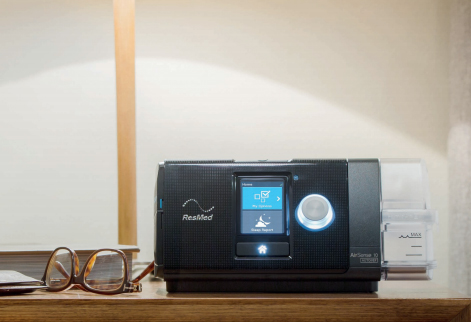 AirMini travel machine
Whether you're traveling or catching a nap at home, ResMed AirMini™ makes it simple to get quality CPAP therapy anywhere. Portable and versatile, it includes multiple therapy modes, waterless humidification 1 and convenient control with the AirMini app.
Enjoy the benefits of therapy at home or while you're away
As a CPAP user, you know how important sleep therapy is to feeling your best each and every day. That's why we created AirMini – a revolutionary CPAP device that is suitable for use at home or while you're away. Thanks to AirMini's small size and portability, you'll never have to choose between therapy performance and freedom again.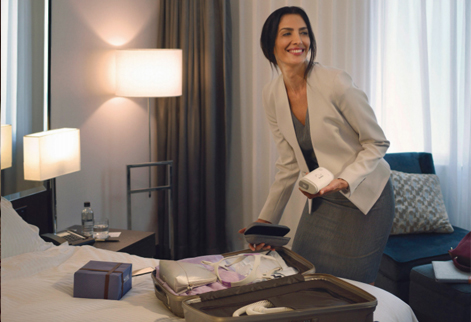 Airsense 10 Lumis ST
Lumis 150 VPAP ST is a noninvasive ventilator designed for non-dependent patients with obstructive or restrictive respiratory conditions.
Featuring ResMed's unique volume-assurance mode – iVAPS (intelligent Volume-Assured Pressure Support) – Lumis 150 VPAP ST maintains target alveolar ventilation to suit each patient's changing needs. And with an intelligent Backup Rate (iBR) and optional AutoEPAP, iVAPS continuously monitors ventilation and the upper airway.
The ventilator is easy to set up and use, and features built-in wireless connectivity* to AirView™ – ResMed's cloud-based patient management system – for remote monitoring.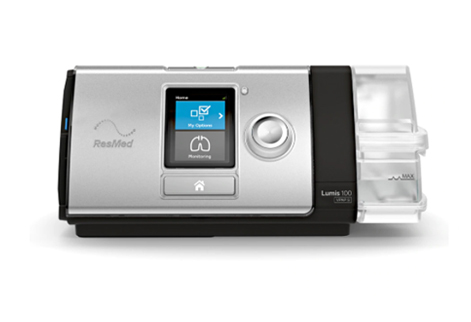 ResMed Masks
ResMed's masks are comfortable, lightweight and engineered for minimal face coverage. Search masks below by your patient's treatment needs, lifestyle and other options.
The complete full face mask portfolio
You now have an entire collection of ResMed full face mask options – from top-of-head tube connection and front-end tube connection to memory foam and silicone – each catered to individual user needs.
Full Face Masks
AirFit F30i – is a tube-up full face mask that's designed to deliver not only visual but also physical freedom, while preventing discomfort on the nasal bridge.
Nasal Pillows
AirFit P30i – Featuring a top-of-the-head tube design, AirFit P30i gives patients the freedom to sleep in many positions.
Nasal Masks
AirFit N30i –  Featuring a top-of-the-head tube design, Airfit N30i gives patients the freedom to sleep in many positions.