With ResMed Air Solutions, you'll find that getting a good night's sleep has never been easier. Our new series of masks, devices and technologies work seamlessly together, so you can get the comfort and support you need at every stage of your sleep therapy journey.
Out-of-the-box comfort
The AirSense™ 10 device has been designed to make therapy easy. With no complicated settings or menus to navigate, simply press Start and you're ready to go. Each device comes with the new HumidAir™ heated humidifier builtin, so you can enjoy the benefits of humidification in one easy-to-use system. And when used with the ClimateLineAir™ heated tube, your device is designed to automatically deliver the optimal temperature and humidity, for a more comfortable experience.
A comfortable start
The new AutoRamp™ feature with sleep onset detection helps make therapy comfortable from the moment you turn on your device. AutoRamp works by delivering a low pressure to help you fall asleep with ease. Once it detects you're asleep, it comfortably increases the pressure to ensure your prescribed level is delivered the moment you need it.
A restful night
Every device has a built-in ambient light sensor that adjusts the brightness of the screen based on the amount of light in the room. So if you get up during the night and need to pause your therapy, the screen will stay dim so it doesn't disrupt your bed partner. The screen's back light also turns off automatically to help you fall back to sleep without disturbance. And with ResMed's Easy-Breathe motor built into each device, you and your bed partner can enjoy whisper-quiet sleep, every night.
Advanced clinical insights
The AirSense 10 Elite can detect indications of central sleep apnea and Cheyne-Stokes respiration. By differentiating between different types of sleep disordered breathing, you can be confident that your patients are receiving appropriate therapy.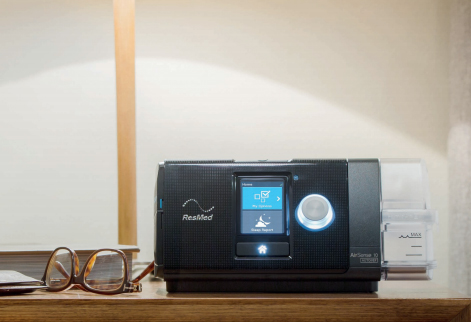 Intelligent detection
ResMed's new AutoRamp™ feature with sleep onset detection starts by delivering a low pressure for greater patient comfort. Then, once the patient falls asleep, it increases the pressure to the prescribed level.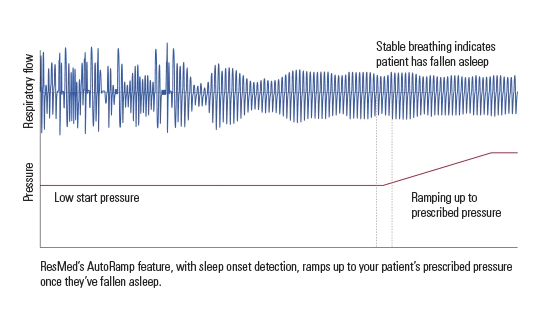 Built-in ambient light sensor adjusts the brightness of the screen based on the light in the room. So if patients need to get up during the night, the screen's back light won't disrupt their bed partner.
Easy-Breathe motor is whisper-quiet, offering patients and their bed partners a more peaceful night's sleep.
Expiratory pressure relief (EPR™). Designed to make therapy more comfortable, EPR maintains optimal treatment for the patient during inhalation and reduces the delivered mask pressure during exhalation.
Consistent humidification throughout the night with the integrated HumidAir™ humidifier with advanced HumidAir technology helps patients adjust to treatment and use therapy longer.