Small. Smart. Proven
Proven ResMed device algorithms
ActiveAir™ technology for compact, portable therapy
HumidX™ waterless humidification for comfort and convenience*
An intuitive AirMini app for easy setup and ongoing support
Optimised with ResMed's latest masks– the 20 series, tube-down 30 series, and AirFit P10 for AirMini
Premium carry bag and accessories for therapy on the go
*Not available with the AirFit F30 full face mask
Small
Ideal for anyone looking for high quality therapy in a pocket-sized design that can be used at home or while they're away. In total size, AirMini is the smallest CPAP device ever produced to market.
Smart
The AirMini App allows you to tailor your own comfort settings and view your therapy progress easily.
Proven
AirMini features the same established algorithms as ResMed's AirSense 10 series of sleep therapy devices.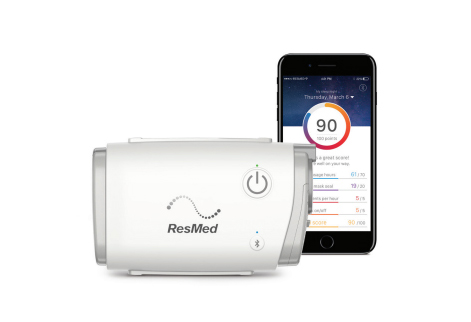 One of AirMini's central innovations, ActiveAir technology is designed so vent flow is minimised, which helps enable the delivery of efficient therapy performance in a small, portable device.
Optimised performance from device to mask
AirMini's technologies have been developed exclusively alongside ResMed's latest range of masks, the 20 series of full face and nasal masks, tube-down 30 series as well as the AirFit P10 for AirMini nasal pillows mask.
Stay connected
The AirMini app allows your clinician to manage a patients settings and stay up to date with your therapy progress.
Accessories for every lifestyle
With a variety of optional accessories available, you can have therapy with even more flexibility.